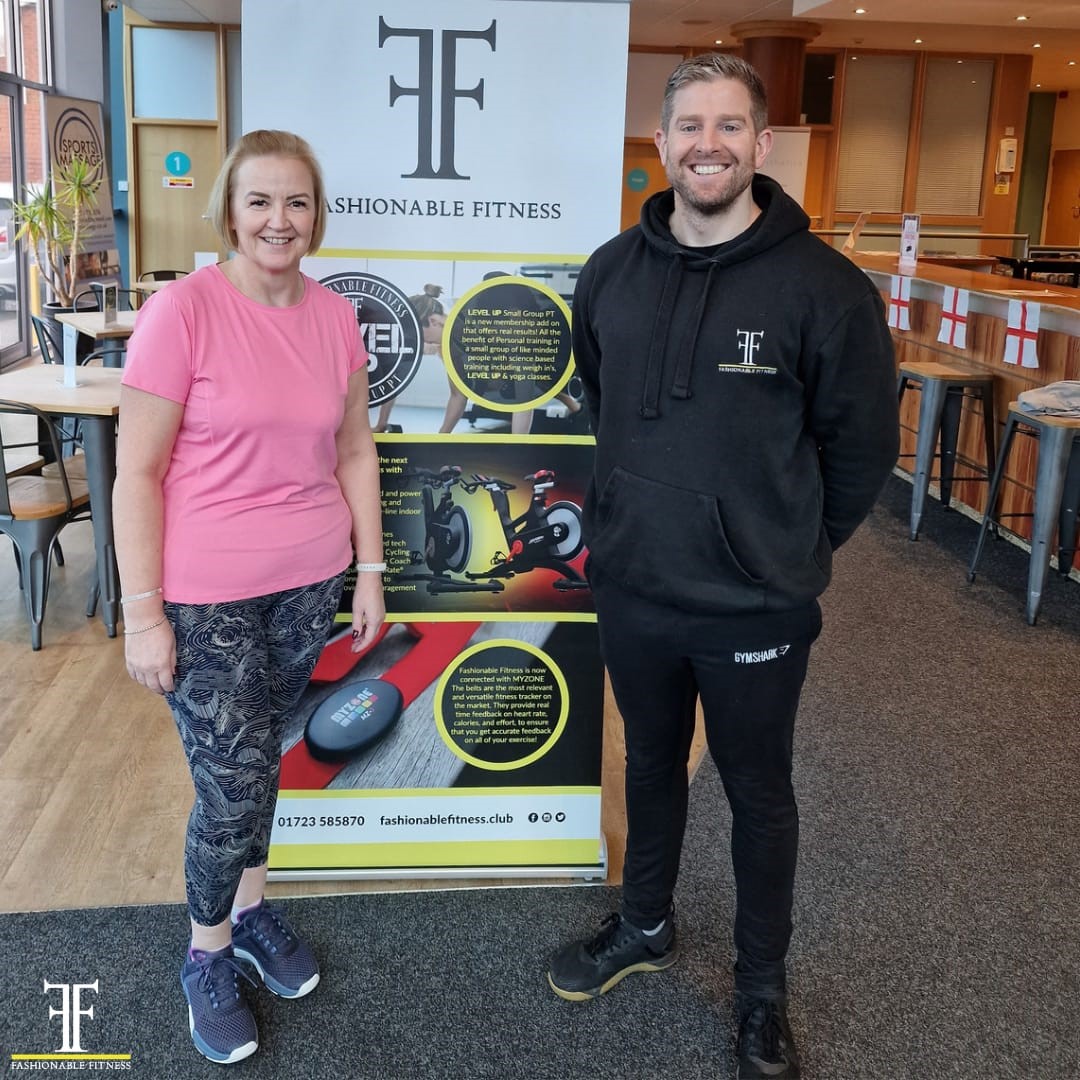 Since starting at Fashionable Fitness, Jackie has lost over 3.5 stone and made amazing progress with her fitness, wellbeing, and confidence in the gym!
This is what Jackie had to say:
My FF journey started 14 months ago, and I haven't looked back! The old me seems a distant memory as I look and feel so different.
I had become very unfit, not making good food choices, and came to a point that I needed some professional help to become fitter and healthier.
The professionalism at Fashionable Fitness from the first phone call with Sammy to meeting Rob was just amazing alongside the rest of the team.
My initial visit to FF I admit to being one of the hardest things I have ever done. I was out of my comfort zone. However, I went for me, and that still stands as I know everyone goes to the gym for their own reasons.
My initial plan was to have two PT sessions a week with Rob, with one of my goals being to join some classes once I had the confidence.
I have had an ongoing hip issue for a number of years, which rest
ricted the length of time I could even walk due to the pain.
Rob adjusted exercises and programmed a specific hip mobility plan for me.
Alongside a small medical intervention, I now have no pain, and my life has changed for the better.
I still continue to have my two PT sessions each week with Rob and attend some classes which were well out of my gym comfort zone, I had no need to feel nervous as the instructors and everyone I have met in the classes have been so friendly.
I now feel fitter than I ever have before! I still have a little further to go to get to my goal. However, it isn't too far away, and I will continue with the fab support I have received.
I couldn't have done this without Rob, who I would put on a pedestal if I could. To me, I couldn't have chosen a better gym and to have been blessed to have Rob by my side.
Team FF is simply the best.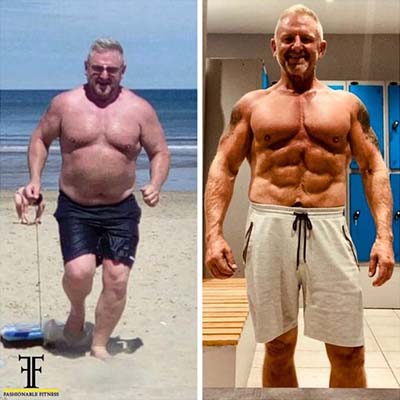 As staff members we have seen Craig come through a tough time being diagnosed with diabetes, struggling with the symptoms and ultimately combating the condition with lifestyle improvements.
This is what Craig had to say:
After coming through lockdown totally lacking purpose & enthusiasm for getting back to the gym, I've now lost 2stone in 10weeks & feeling great!
I feel if I can do it, anybody can…!!!!!!
I just want to this opportunity to thank everyone at Fashionable Fitness.
After 19 years (Goodness, has it really been that long… Ha…) of being a member of this gym, I can safely say that whole team is the most professional, knowledgeable, committed & caring it has ever been…
Thanks again…!!!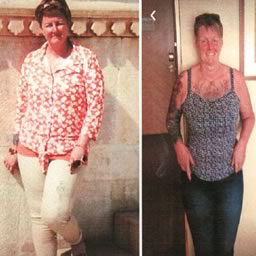 I have been attending this gym on a regular basis from September last year, the staff are all very friendly. I have seen people come and go, those that go often come back which says something.
The staff members are second to none and have become good friend's especially lovely Sammy (Front of reception) you need someone to make you feel welcome and this lady is often the first person you see as you walk in. Always greeted with a smile. There is always a staff member around to advice and help you through any part of your routine. They will work alongside of you and give you a training plan that suits your needs and requirements.
They all have different skills and methods and all achieve results. I enjoy spinning and would recommend it to anyone and for them to return a second time as the first time can be a bit painful on the lower end of your back and upper and of the legs – often called the bottom! You get a really good workout with this class and you go at your own pace so it is good for a beginner along with an experienced spinner – this is my favourite cardio workout.
There are more than enough classes to choose from and with the gym opening at 6am on a weekday morning this suits a lot of people before work. There are shower facilities so you don't even have to go home before work to freshen up. They often have good deals on for memberships.
I have recently invested in a Myzone tracker belt- which makes you focus on training and effort and encourages you to give at least 75% effort throughout your routine, you can see results throughout the gym with screens both upstairs and downstairs. The instructors have use of these and although we all say its not a competition – keeping up with them is a challenge and a good one at that – if only a couple of times a week. I would recommend these to anyone that wants to improve their fitness levels.
With effort – you will see results.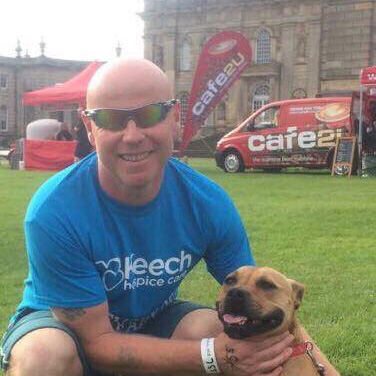 I have been a member of Fashionable Fitness for nearly 3 years now and only have good words to say about the club.
During that time I have been supported and coached by the great staff there. Every time I train I am greeted with a smile and someone to give me help and advice.
I usually prefer the structured sessions and regularly attend BodyWorx, RBT and Kettlebell with Ricky, Rob and Ben giving advice along the way. In the classes there is usually a great atmosphere with members supporting each other.
I did a course of PT sessions with Ricky which in addition to giving me technique advice also prepared me for marathon and triathlon competitions. We have a team entered in this year's Yorkshire Warrior so bring it on!!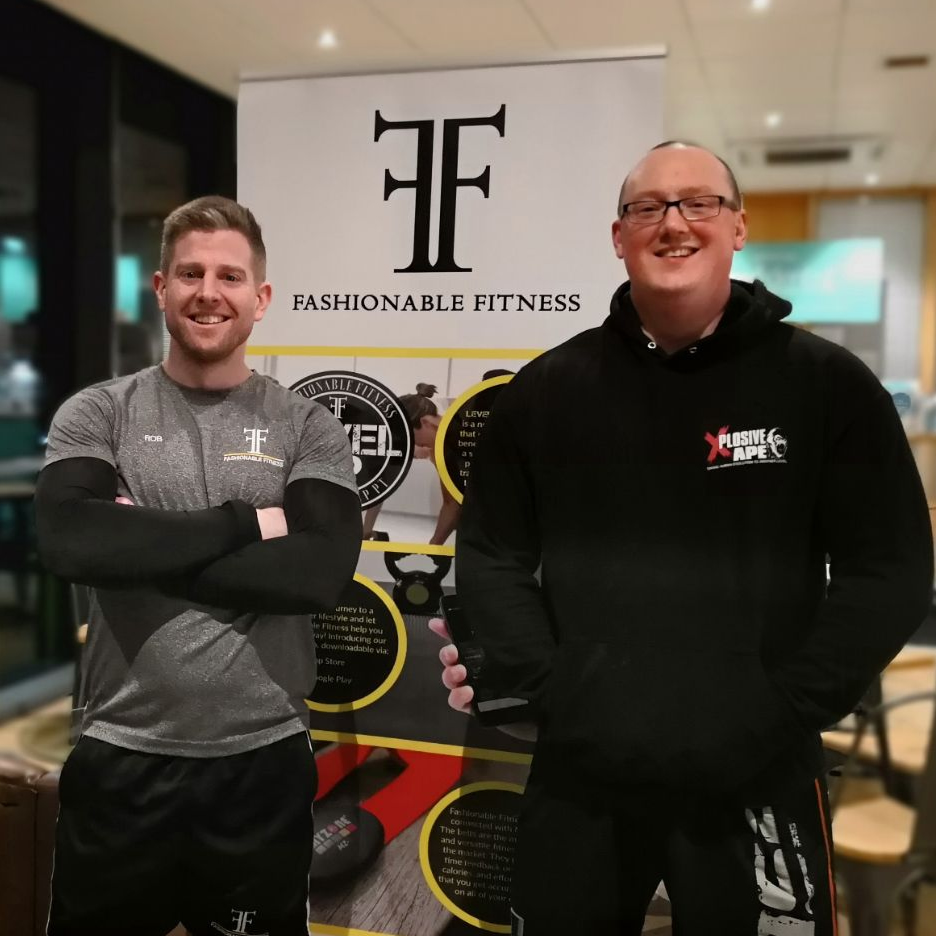 The return to my fitness journey began on the 16th of October 2014 when I finally plucked up the courage to ring the gym and make an appointment to discuss membership. I was given an appointment and told to come, have a chat, take a look around and see where things went from there.
On arrival at my appointment with Rob, he explained what the club was all about without the use of too much industry jargon and it really made sense. After the initial consultation Rob put together a programme to ease me back into training, as it had been a while and, to be fair, sporadic at best. The programme was broken down over three cards with reviews scheduled at various points to check on my progress. This was a bit of a surprise to be honest as other gyms I have trained at in the past you have to really push to get a work out card never mind a review, normally its a case of "here's the gym get on with it".
The fact that the team at Fashionable go the extra mile with advice, structured programmes based around your individual goals and reviews to check your progress is what has made me feel even more comfortable with choosing Fashionable Fitness as the gym I want to be a member of.
Here we are now over 3 years down the road and the results of Robs advice, tailored programmes and the support of the team at Fashionable Fitness have paid off. I have seen gains in all areas of my training, so much so that I have a new passion for power lifting which I plan to compete in later this year. Also my waist circumference has reduced immensely, my overall fitness and physique has improved massively and my body fat percentage has dropped considerably as well. Keep up the great work Fashionable you make training an absolute pleasure even if it hurts like hell some times, couldn't have got this far without your help and encouragement!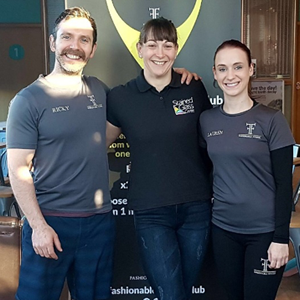 I Joined the Gym back in February 2009, my main goal at the time was weight loss, I took part in a lot of spinning then moved onto weights with help from Rob. I really started to enjoy the strength training over the years and decided to try competing in powerlifting.
I competed with Ricky and Gaz in our first competition, and caught the bug. I have also taken up Olympic weightlifting and now compete in both Powerlifting and Weightlifting. I competed in British Powerlifting Championship this year and the European Masters in Weightlifting in Sweden.
Since taking up Powerlifting and Weightlifting I have dropped three weight categories, and I feel stronger and leaner for it. My plan for the next year is to qualify and compete in the English & British Championships and the World Masters in Barcelona.
Thanks to all the staff at Fashionable Fitness, they have supported me throughout my journey, and go the extra mile from help with spotting in the gym to a cup of tea at Reception.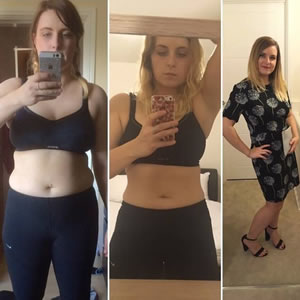 Fashionable fitness is by far the best gym in scarborough. I've been a member for 2 years and it has completely changed the way I think about fitness. I joined when I was really unhappy with the way I looked and in July 2017, after struggling to see results I started personal training with Rob. It was one of the best decisions I've ever made and I am now achieving consistent results. I've lost over a stone in 12 weeks and improving my strength week on week. Rob has changed the way I think about food and I couldn't ask for a better personal trainer. All of the instructors are lovely and make a real effort to get to know you. I can't recommend fashionable fitness enough!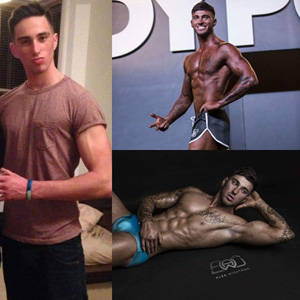 Started at fashionable fitness 5 years ago as a skinny guy looking to gain weight and advice to build my confidence. I felt welcomed by the team and made me feel part of the 'family'. I then gained 2 stone in muscle and learnt so much from the likes of Ricky and other instructors. Furthermore I started competing in 2016 as a fitness model and made the final at bodypower in 2017
The team helped me with posing and mobility work when I was injured. My physique has been created and helped by fashionable fitness and has made me have model opportunities in London and New York. I would recommend anyone to join fashionable fitness as your journey & opportunities can be found there.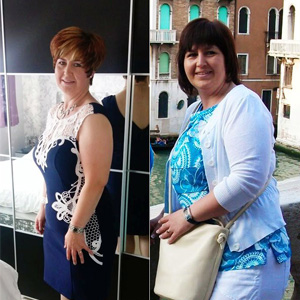 I have been a member of the gym for several years. My initial reason for joining was weight loss, I have had some success with that but now my overall goal is to maintain my fitness levels and become stronger.
There is always a warm welcome when you enter reception. The fitness team are all encouraging and supportive and are always willing to advise you or help however they can. I wouldn't have been able to achieve my goals without the support of Rob. He has supported me through my weight loss and injuries, he has always found alternative ways for me to train around my injuries without causing further problems.
I vary what I do in the gym between classes and training with a friend. There are various classes to accommodate everyone and all are delivered with good instruction and enthusiasm. I would highly recommend fashionable fitness to people wanting a good, clean well-equipped gym.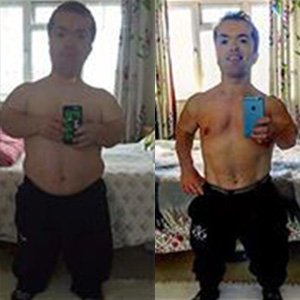 Wowzers what an incredible journey so far, 5th November will be my 2nd year anniversary, since I made a big decision to join a gym. I was completely unaware my life would change forever. From my first PT session with Ricky I knew my fitness journey was going the be challenging, Ricky with his vast amount of fitness knowledge, soon tailored a program suitable for my goals. Which was to lose weight and become stronger, as the months went by I noticed radical changes and my confidence grew.
Now I'm making tons of progress and having fun, I have seen a significant fat loss and healthier more positive change within myself.
The staff at fashionable are like my 2nd family, always helpful and supportive.
I attend many classes a week, but my favourite is total body conditioning which is strength based training. I'm always trying to push myself and I have made so many friends who support and encourage me. I love helping others and I love to be that inspiration for others.
Just a few words of thanks to Lauren and all the gang at Fashionable Fitness.
There are many reasons why people go to the gym, different people of varying ages and abilities. For me it was mental health.
I have been a sufferer of depression for a number of years, experienced lots of low times and been in some dark places. I've seen therapist and taken lots of medication.
I am very fortunate to have an amazing wife in Lucy, and a family who have helped me through these times, and I thank them every day.
I would also like to thank Lauren and all the staff at Fashionable Fitness for helping me on my journey.I was unsure whether or not exercise could help me at all, and at first, I had to force myself to workout. 18 months  on I now have to force myself to stop and I feel it has played a significant part of me getting better.
In the gym there are no variables, its just me and the machine or weights. It's a place where I can put on my headphones, shut out the world and get in the zone.
I would highly recommend Fashionable Fitness and all the great staff (especially Lauren) to anyone who may find themselves in the same position.
Thanks again Fashionable Fitness for pushing me and helping me to be more.
I joined fashionable fitness to improve my fitness as I was training for the Royal Navy.
As soon as I joined the staff were so helpful, friendly and couldn't do enough for me. The gym is suited to all needs and there's no pressure on how you should work out.
I Would like to say a massive thank you to Lauren as she has pushed me through my limits and it's been so challenging with a few tears but Lauren has got me to where I need to be.
I can't thank the team enough, they are really outstanding.
Thank you everyone at Fashionable Fitness.